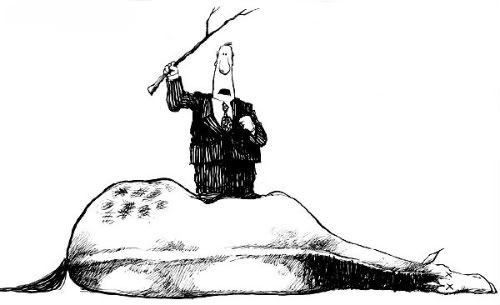 I made mention yesterday of the media's (I won't use the term journalists) tendency to beat an idea into the ground.  Lo and behold today we gave a sterling example.
A kidnapping.  A kidnapping of a teen at work.  Great, cover it.
They found her and she's fine?  Just some cuts and bruises?  And the suspect is in custody?  Great, cover it.
Wait, you want to put all five reporters on it, both dayside and nightside?  You want to devote one third of every show today (noon,5,6,9,10) to it?  You want us to think up every possible angle  and then, instead of covering the best ones, cover all of them?  10, 12, 15 minutes on this one topic?  A topic that affects next to no one, even in our medium-sized market?  You're insane.
I'm done with TV news.  This I know.  I'm just biding my time.  Paying the bills.  I can't muster the interest on a daily basis to care what's going on in the gulf oil spill, in DC, in my own state capital.  Not because they're not important, they are, I'm just burnt out by stupid crap like this.  And because of it, I sure as hell can't care about this.
And neither should you.